This weekend I organised a race in the Cotswolds. I use the term 'race' quite loosely; it's been described as an exercise in unremitting nastiness, the 5 hills of hell and the hilliest hilly ever. It used to be organised by Mike Hallgarth, a local luminary in the TT scene, but of late the event has been lying dormant. After a bit of back and forth we agreed to resurrect it during a conversation one balmy evening at a hill climb on Stouts Hill, under the assumption that if you keep talking about it, it might never happen, whereas if you stick it in the handbook then that's that.
Organising an event is a considerable undertaking, especially a hilly time trial with a complicated parcours. It requires a lot of willing marshalls and all sorts of other people to help. To this end i was indebted to the support of the Dursley Road Club and Bristol South. The important task of providing the cakes was taken up by Belle, with a selection of delicious chocolate brownies, mini banana muffins and flapjacks various.
Prior to an event I tend to hope for a couple of things: a dry day with not much breeze, but primarily a dry day, and an event run without any accidents or injuries. It is always in the back of my mind when organising any kind of race on public roads that there is an element of risk involved; it's inescapable, i guess the aim is to do everything you can to minimise the level of risk and ensure that everybody rides quickly, but safely. This is magnified on certain courses like dual carriageways, but also hilly courses where there can be blind corners, or sleepy villagers meandering into the road at 9am possibly not expecting to see some bongo-clad bongorider hurtling through the sticks at 36mph, or several extremely fast descents.
The race took in the gentle climbs of Wotton-Under-Edge, Crawley, Frocester, Selsey and Stouts, totalling 1000 metres of climbing in 28 miles. The Little Mountain Time Trial, a classic and long standing event viewed as seriously lumpy, manages to pack in slightly less climbing over 11 more miles. This puts things into perspective. On the day most competitors, bar about 4 (myself included) turned up on road bikes, it simply wasn't seen as a TT bike course. To be fair, any race where you're averaging between 15 and 18mph isn't really one that rewards slipperiness. At the last minute i opted to take the TT bike and just left it as it normally is, heavyweight disc wheel and trispoke, the works. I could have saved around 1500g if i'd switched wheels, but couldn't be bothered to change the brake blocks. I was also more worried about making sure all the preparations were made for the event than fine-tuning my assault on the course record.
The course starts on a 6 minute climb which doesn't help matters. I caught my minute man very quickly. After a fast descent and a savage climb up through Uley it turns left to Frocester. Things get interesting here because you have to descend a very long hill at speed whilst contemplating the creeping awareness that you have to return from whence you came; uphill. It's made worse by the sight of other riders struggling horribly to ascend; a harbinger of doom. The same happens on the descent of Selsey, you get to see your comrades gripping the handlebars and hear the death-rattle of hill-blasted lungs long before they come past at 2mph.
After Selsey there's only the one climb left. Finishing on a climb is particularly horrible, you can't really get everything out, you just have to cling on for dear life, pedalling squares from bottom to top. Strange things happen as time and space collapses in on itself; i could see Graham Douchebag up ahead through the tree canopy – i'd caught him for fifteen minutes, but couldn't summon up the energy to get across the last 30 yards. At this point i harboured deep regrets over my smallest gear ratio of 44:25. By the time i limped across the lane i was ready to vomit. I felt ready to vomit for the rest of the day, and probably most of Monday.
I came second to Derek Smetham by a slender 6 seconds. I'll settle for that, you can't win your own event after all and I descended like a fretful grandmother on a raleigh 20. Derek rode fast and fearlessly with only a cloth cap and skin suit for company.
After the event I broke my Strava embargo because i wanted to see the split times for the ups and downs. I gave away hours on the descents but made up slabs of time going uphill and on the flat. Several other people uploaded their data from the race to Strava. I imagine somewhere there's a keen cyclist who has been sitting proudly on the KOM for Selsey, Wotton, Stouts, Frocester and other such climbs for about a year or so, feeling invulnerable and the king of all the Cotswolds, only to turn on their computer on Sunday and find they'd slipped from 1st to 13th in the blink of an eye. In the space of 28 miles i managed to notch up 16 KOMS, most by around 20-30 seconds and some by as much as a minute. I think there's probably some very suspicious Cotswold riders out there now wandering what the hell just happened to their digitised high score table. The odd thing is at the time it didn't feel super-fast, i wasn't in hill climb mode and was trying to moderate my efforts slightly to avoid blowing up spectacularly. I also know that although i did a 5.54 or so on Stouts, i've managed close to 5 minutes in a hill climb. It's interesting to suddenly see the comparisons with other riders again, and a bit of an ego boost if i'm honest. Nevertheless, my hatred of Strava remains entrenched; it's a part of the inexorable digitisation of the outside world.
One last thing – the HQ i used was the Scout Hut at Conygres, up above Wotton. It's got a certain rustic charm insofar as it's not much more than a cowshed. As Steve pointed out, it's fast become the West DC's answer to the Roubaix Showers.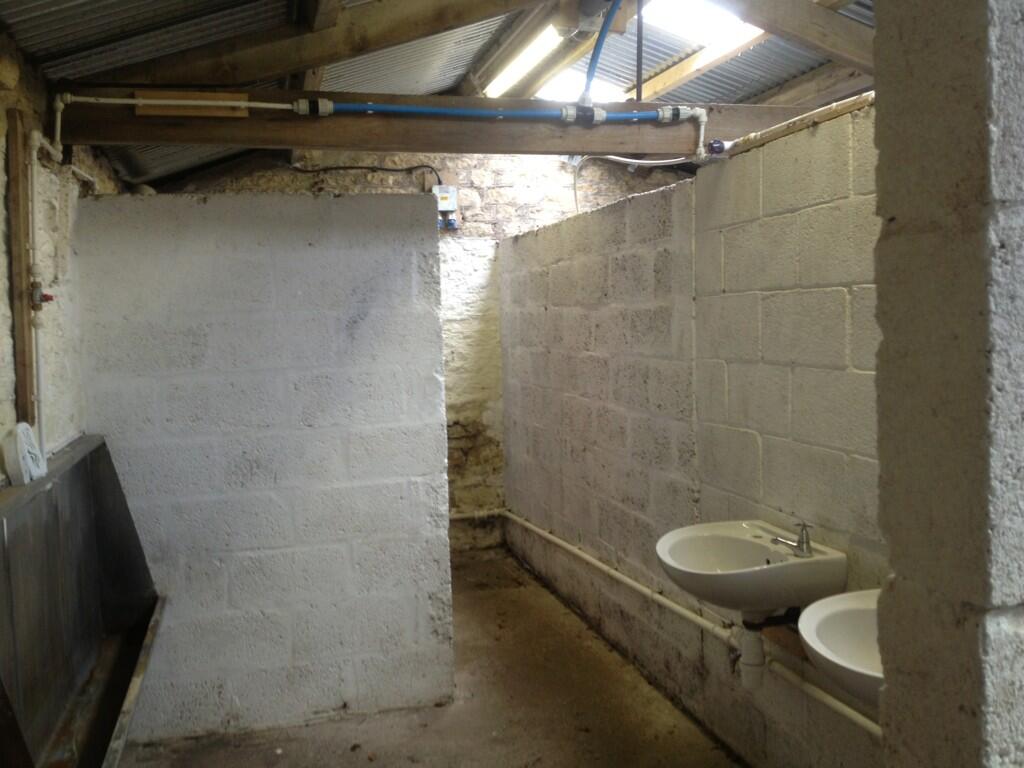 I'll be running the event again next year. People were universally positive about the race, despite – or in spite of –  it being ridiculously hard. Well done to everyone who rode; it's rare that races can afford such a sense of achievement amidst the pain.