The long-suffering three readers of this blog will recall a reference to the all-encompassing new thing for indoor virtual cyclists: Zwift. It's seen as the antidote to the sterile hell of the turbo; I do repent the tedious minutes I with her have spent. It's the very thing to transform the solipsistic and endless darkness of a life spent moving nowhere but really really quickly (virtually quickly, not really quickly). It takes all of those lonely, existentially challenged turbo warriors and places them into a virtual world where they can all exist as one. There are now virtual club rides on ze Zwift, as the three of you will recall from the EC1 blog post of late. They are big on Zwifting.
There are virtual routes which then can be uploaded to strava and have virtual virtual segments. Or is that virtual virtual? It has a map of London. People can ride in London with their friends whilst they are in the kitchen on their own. Or perhaps not in the kitchen, maybe in a sort of white clockwork orange space, on a grey pinarello, sat on top of a drum riser with a gert big telly and a sticker saying, like, RIDE ON ZWIFTERS.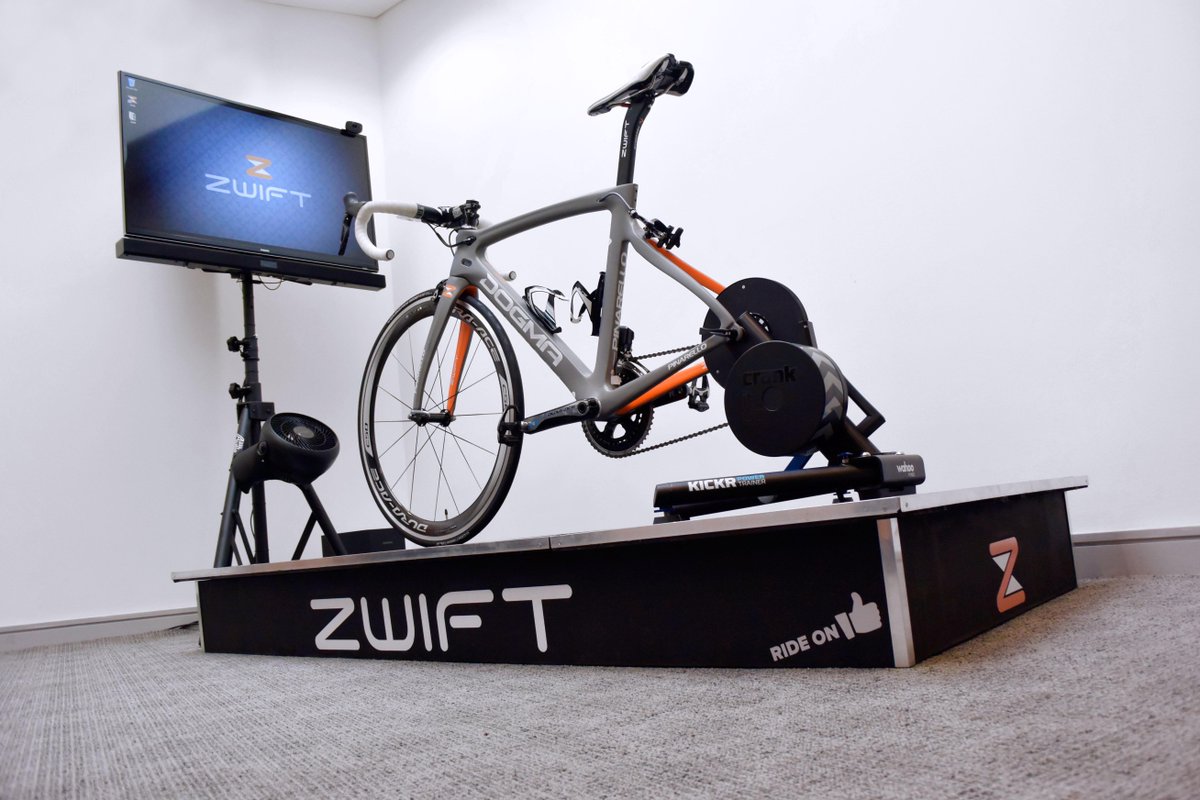 Jasmijn Muller recently (yesterday or even today, that recently) undertook a challenge to set a Zwift 'distance record attempt'. She managed 1000 miles in 2 days, or something like that. Jasmijn is quite a cyclist – I'm not going to be churlish about this; she is an ultra endurance athlete and she won the National 12 hour a few years back. Nevertheless, I want to be by some distance not the first person to point out that she hasn't actually broken any distance records at all, in fact, she's enacted the hoary old cliché (i think the phrase 'hoary old cliché' might be a hoary old cliché) of going nowhere fast. Very fast. Or somewhere very far but not fast at all. Wait: she's gone nowhere not fast, but she's taken a very long time to do it. In fact, she's been sat in her kitchen for two days.
I admire something about this, even if it's only the tenacity of the endeavour. But it's a glimpse of a future which I don't really want to be a part of. I'll stick to actual club runs, or base club, or riding out every morning and being thrilled by the serendipity of seeing someone I actually know, in actual form, rather than an uncanny avatar. I'll listen to wind noise, struggle with headwinds, experience wildlife, the changing of the seasons, the fluctuations of form, the sense of genuine space, the onrush of cold air, the feeling of unbridled joy and I'll leave zwift to those who enjoy zwift and don't see at as counter to some irreducible truth of what bikes are for.
Oh but PJ, you're just missing out on the way it shapes the interior and brings community into a solo activity…. It's a training aid, it helps me do stuff. 
Well good for you. Now get back into your kitchen and ride a 100 miles on a static bike with friends who aren't there, all the while towelling yourself down and using one of those triangular sweatcatchers.