Phil O Connor is a photographer; he is sitting on a ton of negatives from the 80s and 90s. He takes amazing pics and I often go to him when I need something. I'll say, ooh, have you any pics of Pauline Wallis in the Tour de Feminin in 1987 and he'll say, 'let me have a look', and then send back a reel of about a 100 pics, all brilliant.
He regularly scans in sets from races, side of the road stuff, mid 80s, seminal, mind-blowing depictions of the sport we love. He dropped this pic of Richard Hallett yesterday which caused a stir on the tweets: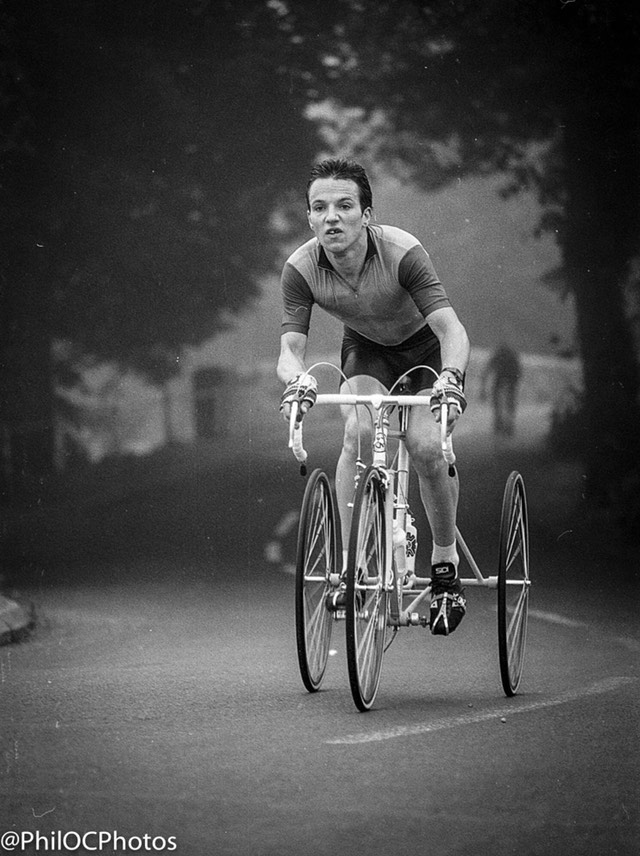 Most of it was ageless jokes about tricycles, but it was a lovely conversation. Simon Warren started it, then Simon Smythe jumped in, Jack Thurston, Will Fotheringham, Ed Pickering, the lot. See the link below.
Sometimes people crop up in forms you never even knew; a pic of Arctic Sram DS Sir Pete Ruffhead riding in a 24, that sort of thing. These are the sorts of images that tend to disappear in time; I'm thinking of John Coulson's folders of negatives; Bernard Thompson's millions of snaps.
Anyhow, one way you can show your appreciation is to buy him a coffee. Have a look through the galleries on the website; dream of a different time, and then chip in £3.
https://ko-fi.com/philocphotos