I was trying to explain to someone recently what it means to ride in the BC National Championships. This involved the use of a clumsy analogy involving what it might be like for a very good club tennis player, or even district big-hitter, to take on Novak Djokovic at Wimbledon. It was as close as I could manage; Thursday's race included the Olympic Time Trial Champion and The Commonwealth Games time trial champion and the winner of the Tour de France. They were the thick end of a very thick wedge of absurdly quick riders. Somewhere in amongst it all could be found a gentle sprinkling of club riders, whilst over there, looking confused and nervous and a small bundle of shivers growing afraid of it all and beginning to cry, was PJ.
I spent at least some of the pre-race period sat on a sofa at Celtic Manor in my skinsuit talking to Matt Le Tissier. i didn't know he was Matt Le Tissier until someone else came up and asked for a selfie to send their Southampton-loving chum. He looked a lot like Phil Tufnell. He seemed very friendly and not daunted by the lycra. He was aware that a race was going on. Bradley Wiggins then walked nonchalantly through and everyone stopped and stared.
I took my rollers. This is unusual for me, but it seemed unlikely that there would be anywhere to warm-up, and the possibility of wet weather posed distinct problems. I was very glad i did, i managed to find a quiet spot to set up. What with Celtic Manor being a Ryder Cup location, it seemed entirely appropriate that Colin Montgomerie was able to offer a helping hand.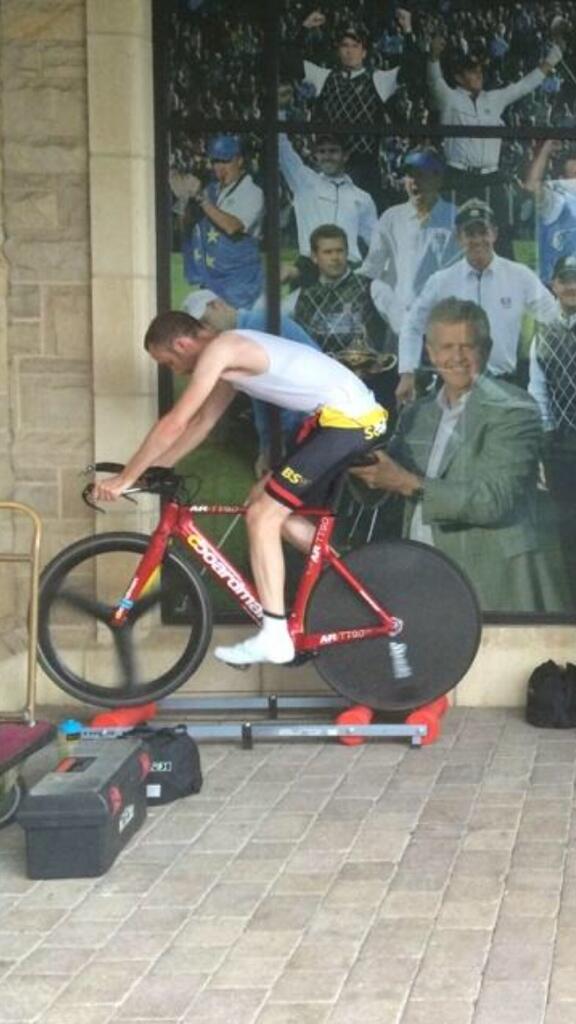 After 4 weeks of beautiful weather, the heavens opened in time for the Elite race at 6pm. The roads were greasy and grubby. It made for some technical and hair-raising sections on the 12 mile lap. The start ramp was chronically exciting, as was the Hugh Porter commentary; at first. Hugh Porter is a legend of the sport, but his best years of commentary appear to be behind him. At times he seemed to have been switched with a confused dementia patient reading out some bingo numbers.
The bike passed the offical bike check, which is more than can be said for some. My complex home measuring system involving a tape measure, door frame and sharpie was identical to the rig used by the scrutineers. Several other riders fell foul of the bike checks. It left me wondering why people push it when they know the rules. Perhaps it's easier when you're not pushing the envelope; I didn't particularly worry about it. The extensions needed to be pulled in by nearly 5cm and the saddle pushed back a bit, i erred on the side of caution – a metaphor for the race. And so it goes…
I didn't go full gas on some of the sketchy bits, it was too sketchy. Apparently Wiggins was fully committed and asked where the nearest hospital was prior to starting. I eschewed this approach in favour of a slightly lower key ride. Fortune favoured the brave, and i wasn't that brave. At the end of the lap loomed the horrifying spectre of a steep and savage climb. There's no way to describe the brutality of climbing up a 25% wall on a slightly overgeared time trial bike. I had the 42:23 on, I didn't have anything else. This was fine; I am used to climbing on fixed so can turn bigger gears over when going uphill. It was hard and i had to stay out of the saddle all the way up. I could have done with something a bit lighter, but it didn't make a huge amount of difference, the climb was vile. It's worth noting for information purposes that it is harder than any hill climb i've done over the past 4 years. The saving grace was the smörgåsbord of red and gold; a cheering, baying mob of the Bristol tifosi, screaming encouragement. It took my mind off the climb.
There are some other notable features that made this event the best race I have ever been involved in, notwithstanding the presence of several riders who I tend to idolise. It utilised a full road closure; not some rolling stoppages, but a full, barriered closure from start to finish. If you're not used to riding on full closures it's a weird experience. It takes a long time to get out of the habit of hanging to the left hand side of the road, rather than choosing the racing line through the long and sweeping bends. When you finally do get to taking the racing line through sharp right handers, it's accompanied by a nagging fear, 'i do hope the road really is fully closed and there won't be any nasty surprises'. On the first lap I was led out by a motorbike outrider from the NEG group. This was an amazing experience; he signalled all of the slippery drain covers and hazards. After the first lap it was a free for all, there were more riders and more following cars.
Such was my excitement at being in the biggest race of my life that I took every opportunity to throw out the rock horns, both on the first and second lap. I think that some spectators saw this a potentially foolhardy, or perhaps a sign that I wasn't treating the race with due diligence. Ultimately I wasn't taking it hugely seriously, I wasn't in it to win, I was there to do my best, to represent the club and to enjoy it. I didn't want to come to last. Essentially these were my goals for the race. And to throw some shapes wherever possible.
http://instagram.com/p/puWdJ0LQ92/
I came 28th out of 60. Wiggins' time was stratospherically fast; he is the reigning Olympic the trial champion. Outside of the continental riders, the bulk of competitors were within 4 minutes of each other; i was within this block, just. I came in 9 minutes behind Wiggins. I just kept it to within 10 minutes, which is how i imagined it would be. Getting to ride the event in the first place was a success, staying on the bike and making it round was even better, finishing within the top 30 at the National Championships, ergo, all of the country, and not being significantly adrift of the non Grand Tour stage winners, was the best of all. I was chastened and humbled by the level of support; Mum, nephew, wife and child, in-laws, club-mates, random strangers asking questions, the tweets and likes, everything.
I raced yesterday on the Somerset levels. It wasn't quite the same.